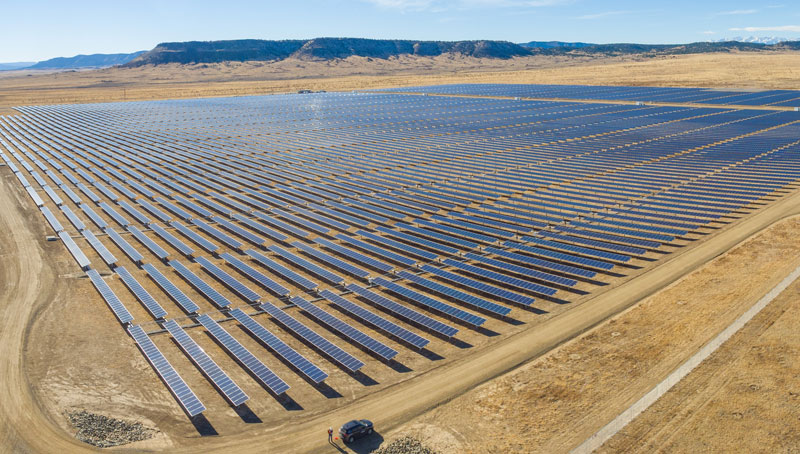 juwi announces four new Colorado solar projects with Tri‐State
16 January, 2020
juwi today announced that it has contracted with Tri‐State Generation and Transmission Association for four new solar projects in Colorado, which along with one project previously announced and yet to be constructed, will result in more than 500 megawatts of emissions‐free renewable resources being added to Tri‐State's power supply portfolio by the end of 2023.
The four Colorado solar projects to be added to Tri‐State's resource portfolio by the end of 2023 include:
Axial Basin Solar, a 145‐MW project in Moffatt County in White River Electric
Association's service territory. The project is located on land near the Colowyo Mine,
which will close by 2030.
Coyote Gulch Solar, a 140‐MW project located in Montezuma County in La Plata Electric
Association's service territory.
Dolores Canyon Solar, a 110‐MW project located in Dolores County in Empire Electric
Association's service territory.
Spanish Peaks Solar, a 100‐MW project, and Spanish Peaks II Solar, a 40‐MW project,
located in Las Animas County in San Isabel Electric Association's service territory.
These solar projects are part of Tri‐State's Responsible Energy Action Plan, the details of which were announced yesterday. According to Tri‐State, the renewable energy projects and other actions set in motion under the Responsible Energy Plan are part of the most transformative change in its 67‐year history.
"It is a very exciting time to be a solar developer in the state of Colorado," said Michael Martin,CEO of juwi. "The state's visionary renewables policies and resulting deployment of projects have elevated Colorado to the national stage. We appreciate Tri‐State's vote of confidence and are delighted to develop and build once again in our home state. These four solar projects collectively will offset 1.5 billion pounds of carbon dioxide emissions in their first years of production."
When completed, the four solar projects will provide enough generation to meet the electricity needs of over 165,000 households. juwi will build, own and operate the projects under separate power purchase agreements with Tri‐State. Terms of the contracts will not be released.