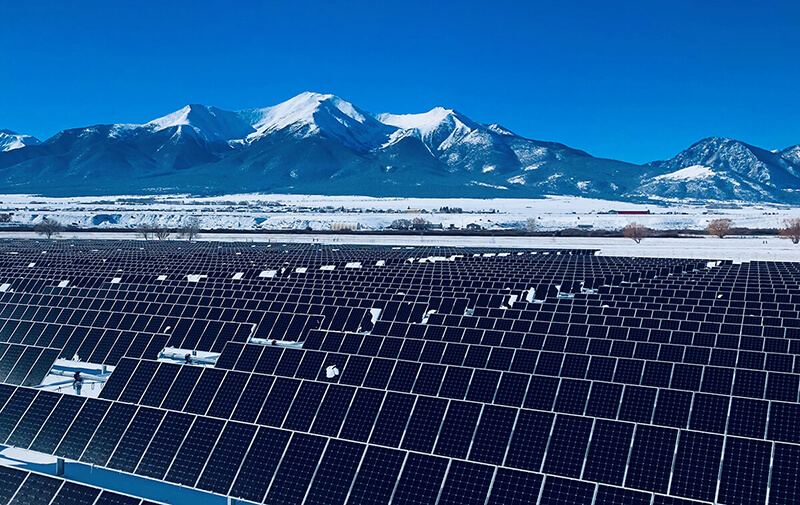 Agreement signed for Trout Creek project go-ahead
20 August, 2018
Sangre de Cristo Electric Association, Inc. announced today that a 36-year Site License agreement is in place to proceed with construction of the Trout Creek Solar array project. The array will be located on the Colorado Department of Corrections property south of Buena Vista.
"The agreement allows this innovative, locally-based project to go forward," CEO Paul Erickson said. "Trout Creek Solar will bring long-term, renewable energy to SDCEA at a cost-effective price, something that was crucial to us in developing this project."
Because the array will be located on CDOC property at the Buena Vista Correctional Facility, access to and use of the site must comply with security and other considerations of CDOC. The site license is the partnering agreement between SDCEA and CDOC. It allows for the construction and operation of the array and has been under negotiation for the past 13 months.
"SDCEA is appreciative of CDOC's willingness to host the Trout Creek Solar facility and the cooperative efforts to attain the Site License," Erickson said.
An international wind and solar energy company, Juwi, Inc., has been commissioned by SDCEA to build the solar facility. SDCEA will purchase all the power generated from the solar facility to supply to its consumers. Juwi representatives will complete site studies and begin construction of the 2-megawatt solar generator over the next 2 months.
A portion of the output from Trout Creek Solar is planned to be available for purchase by consumers as shares or subscriptions to be applied toward their electric bills. The terms of SDCEA's Solar Garden Program have not yet been determined and will be announced as the project proceeds.
SDCEA is based in Buena Vista, with a service warehouse in Westcliffe. SDCEA provides electricity to approximately 13,000 consumers in the mountains of central Colorado. For more information about SDCEA, visit the company's website, myelectric.coop.

Trout Creek Solar Over the past 21 months:
The financial merit of the project and support for sourcing locally-generated solar power to add to SDCEA's energy mix, as well as the size, cost, and output of the solar facility were considered in formulating SDCEA's business plan.
Extensive negotiations were held to determine the size and configuration of the solar facility, as those parameters are governed by the agreement SDCEA has with Tri-State Generation and Transmission Association, Inc. to purchase wholesale power.
Engineering studies evaluated the potential impacts the solar facility would have on SDCEA's electric delivery system and determined operational requirements that would allow for integration of the solar facility without negatively affecting the reliability of SDCEA's grid.
A developer for the solar project was sought. After several months of seeking and reviewing proposals, international firm Juwi, Inc. was chosen in a competitive process.